Contrary to his usual attitude toward artists, George Washington liked John Trumbull, which was more than you could say about Trumbull's father, who certainly loved his son but regarded portrait painters as vagabonds courting poverty. "My father," Trumbull noted years later, "had not the same veneration for the fine arts that I had."
It was an understatement, though the elder Trumbull was hardly a Philistine. The family was old Connecticut, and prominence came with obligations, such as attending Harvard, becoming ministers and lawyers, and entering either the pulpit or public service. Jonathan Trumbull was Connecticut's governor (he would be the only governor to remain in place as a Patriot after the outbreak of the Revolution), and he wanted his son to become a minister. John balked. The father urged John to take up the law. "You appear to forget, sir," he lectured his son, presumably bound for life as a vagabond, "that Connecticut is not Athens."
The lad's natural talent was impressive enough to attract the attention of John Singleton Copley, but John was too young to risk his father's disapproval. So, he attended Harvard, as had all other Trumbull men. It was possibly the last time John ever did anything he didn't want to.
At the start of the American Revolution, he immediately joined the army and was in Boston when Washington arrived to take command of the newly created Continental Army. Trumbull on his own initiative and at some risk scouted British positions to produce a map for the new commander-in-chief. Art as utility impressed Washington. He placed Trumbull, who was all of nineteen, on his staff. It turned out to be a temporary assignment, as Trumbull felt overwhelmed by his duties and soon chose to serve in a line brigade.
Trumbull's impetuous nature got the better of his talent and enterprise. He thought he had to wait too long for promotions, and he chafed as others he judged less meritorious passed him by. When John Hancock had seen Trumbull on Washington's staff, he muttered that the Trumbull family obviously "was well provided for." The young man never forgave the implication that his rise was the result of the Trumbull name rather than his own merit. He was only twenty when promoted to colonel, but on February 22, 1777, his pride and impatience caused him to end his military service in a fit of pique.
After resigning from the army, Trumbull at last resolved to become an artist. For a time, he eked out a living in Boston while honing his craft, but the war meant a scarcity of teachers. He traveled to London to study with Benjamin West and had a good start in England, though not everyone was impressed. Joshua Reynolds once sniffed at a Trumbull painting and bluntly told him, "That coat is bad, very bad; it is not cloth — it is tin, bent tin."
Others, however, found him worthy of imitation. European artists satisfied the demand for an image of George Washington by copying the work of others, as did Valentine Green in London when he made an engraving of a John Trumbull portrait of Washington done from memory. Green's copies were so popular they became the way most Europeans pictured Washington. It looked nothing like him.
Trumbull's fortunes took a catastrophic turn when the Crown arrested him for treason because of his service in the rebellious American army. The British stuck him in Bridewell Prison where his friend Gilbert Stuart (a fellow student of West's) often visited and impishly dubbed him "Bridewell Jack." Trumbull was comfortably situated at Bridewell, but he saw nothing amusing about it. For once, he didn't mind that the Trumbull name had important connections. Edmund Burke gained his release on the condition that he leave England. After a brief stay in Holland, Trumbull went to Paris with a letter from John Adams introducing him to Thomas Jefferson, who became a friend. Trumbull was soon visiting the city's formidable intellects and fashionable salons. He was abroad when the American Revolution ended.
American victory caused Trumbull to move his career in another direction, especially since he had grown disenchanted with portraiture. Using the example of Benjamin West and with the encouragement of Thomas Jefferson, Trumbull decided to paint decisive events in the American Revolution. Jefferson suggested that the first should be the presentation of the Declaration of Independence to the Continental Congress.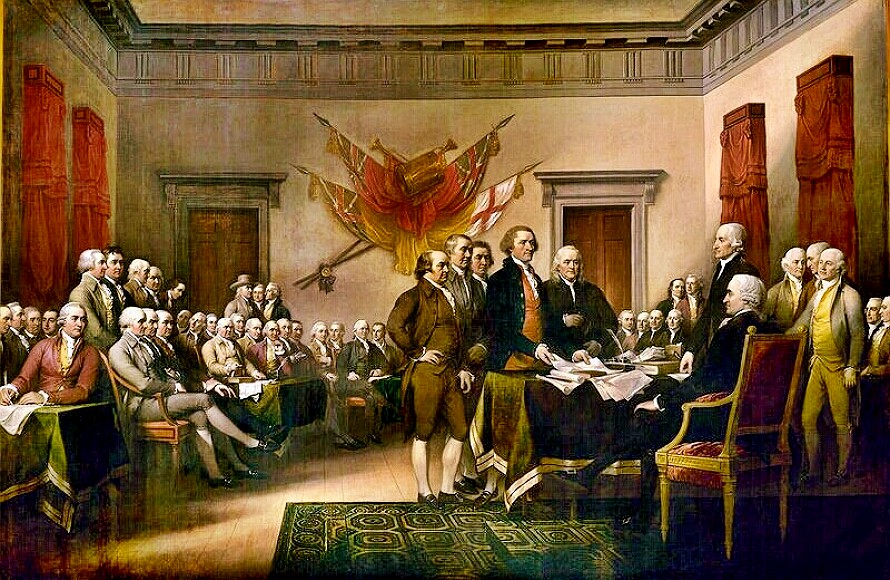 Trumbull's project took years to complete, but for a time it returned him to Washington's orbit when he traveled to New York City in 1789 to sketch studies of the new president. Washington naturally remembered Trumbull from the Revolution, and if he had any lingering questions about the way the young man had left the army, he never asked them. Instead, the painter was the rare instance of someone able to break through Washington's aloof nature. He was more mature than the rash officer he had been, and Washington found him an amiable companion. From February through July 1790, he obliged Trumbull with multiple sittings, welcomed him at his table and on horseback rides, and appreciated a thoughtful man's wide experience and graceful manner.
Trumbull did more than produce "studies" of Washington to incorporate into historical tableaux. That summer, he painted a full-length portrait of Washington as a gift for Martha. It shows the uniformed commander-in-chief standing beside his horse on Verplanck Point as the British are evacuating New York City. For several years, Trumbull painted other versions of this Washington portrait on commissions from a variety of patrons that included the city of New York and other places throughout the country, varying the setting and pose according to patrons' instructions. South Carolinian William Loughton Smith thought the Verplanck Point painting "magnificent" and wanted Charlestonians to open subscriptions to pay for one to hang in the South Carolina statehouse. It "would delight your eyes all the rest of your life," Smith rhapsodized.
Yet Trumbull never liked doing portraits. He struggled with the oversized dimensions they required. His paintings were always relatively small, and even the full-length Verplanck Point portrait measures only 20" by 30".
Indeed, it was most strange that John Trumbull had become an artist at all because he labored under a burden more formidable than any objections his father had raised. The best aspects of his paintings derive from his vivid use of light and color, details that suggest an innate talent for discerning the most visually interesting aspect of a scene, but he was never so much an artist as an illustrator. And he was sometimes a laughably inept draftsman, as revealed by the awkward placement of Thomas Jefferson's foot in The Declaration of Independence.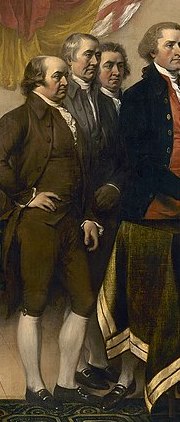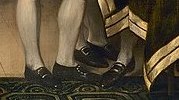 Joshua Reynolds had also picked up on something about Trumbull's shortcomings when he criticized the texture of fabric in one of his paintings. The flaw in technique is more obvious in large works depicting many people at various distances from the painting's point of view. Trumbull always captures color and light, and he had a splendid eye for reproducing faces, which he took considerable trouble to record accurately and usually from life. But the splendid eye was truly in the singular for John Trumbull, whose paintings have an oddly flat quality because he had no natural sense of perspective. When he was five-years-old, he fell down a flight of stairs and bruised his left eye. The bruise healed, and everyone, including John, thought the mishap minor and passing. But the boy was merely adapting himself to the deprivation of a sense deemed indispensable for an artist. John Trumbull himself did not realize for several years that he was blind in his left eye.
He never saw out of that eye again. But he managed more than tolerably well using the eye that still worked in tandem with the one in his mind, for it was that one that saw dreams in the play of light and color and history. With it, John Trumbull put into remarkable perspective the aspirations of a people fighting for their country and making it a nation. His father had been right: Connecticut was not Athens, but neither was America. Half-blind, John Trumbull saw it differently, and strangely enough, he saw it better.